"...it helped reset my expectation of what calm feels like."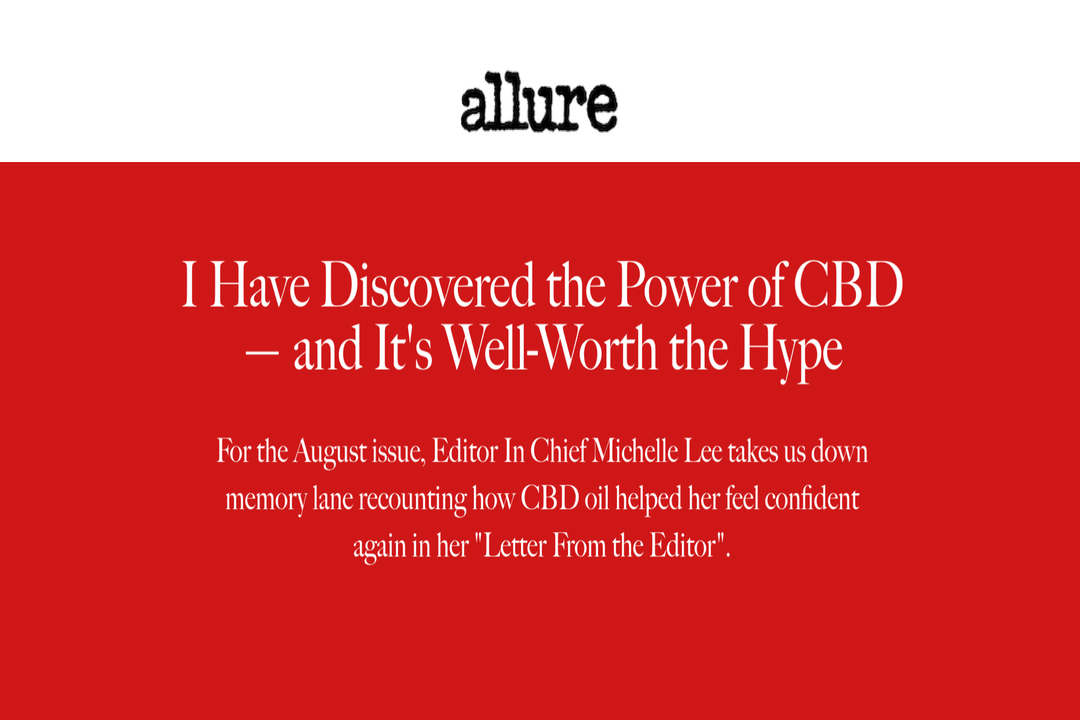 GREEN EARTH MEDICINALS RECEIVES ANOTHER GLOWING REVIEW FOR HOW ITS CBD BOTANICALS MAKE A DIFFERENCE.

We are honored by Allure Magazine's Editor-in-Chief, Michelle Lee, sharing her experience with our CBD Extra | Sublingual Drops. It is gratifying to hear that the 10+ years of experience in cannabinoid therapy that has gone into the formulation of Green Earth Medicinals is manifest in the experiences of our customers.

We continue to hear amazing stories about how our products help improve lives. Of course, it is second nature for us to want to share "why" our CBD botanicals are effective. Here are a few notes from one of the videos on our YouTube channel that explain how our CBD formulas achieve the results that Michelle Lee describes.

There are four primary ways that CBD can support health:
CBD calms the central nervous system1-8.

CBD improves sleep9.

CBD modulates pain response10.

CBD helps the body adapt to stress11-13.
CBD achieves these effects by stimulating the Endocannabinoid System (ECS), which regulates physiological and cognitive processes including mood, appetite, pregnancy, pain-sensation, response to physical exercise, and memory. By stimulating the ECS, CBD optimizes these processes, ultimately enhancing and optimizing homeostasis, the sum total of all biological processes that living things use to actively maintain stable conditions necessary for survival and well-being.

It is important to note here that the effects that CBD may have on the body are dependent on a wide variety of factors, and its effects may not be consistent person to person. This is the reason why you should determine for yourself how CBD might support your health needs. Further research is required to validate the four points noted above.

At Green Earth Medicinals, we bring our clinical experience and knowledge to bear in the formulation and production of CBD Botanical products.
Our extensive clinical experience with real-world cannabinoid therapy gives us the knowledge and motivation to create CBD Botanicals that work.

Our ethos of integrity, compassion, and respect creates a company environment where efficacy is prioritized over profits.

Our standards of compliance and production ensure that our products are pure and standardized.

Our full-spectrum formulations, which include additional cannabinoids, terpenes, and flavonoids, provide entourage effects that are greater than the sum of their parts.

Our synergistic botanical ingredients enhance the effect of CBD and other cannabinoids.
"[I]t was a revelation. I was heading to work one morning and it felt like the sky had suddenly opened up — like a lead blanket had been lifted off my body and the background commotion had been silenced so I could focus… I've tried multiple brands, and for some reason, only one particular tincture from one particular brand in one particular strength has worked for me (Green Earth Medicinals Extra Strength Sublingual Drops)." —Michelle Lee, Editor-in-Chief, Allure Magazine
To learn more about CBD and health, check out our YouTube channel here!
Citations:
July 29, 2019