Aaron Edge is an artist and an avid cyclist here in our home state of Oregon. Like so many of us, Aaron's life has included challenges. He has learned that an important part of an effective wellness regime for dealing with some of these challenges is pushing himself physically. In this piece, Aaron was kind enough to share how Green Earth Medicinals CBD products fit into that wellness regime, helping his body push a little harder and recover a little faster. You can find and follow Aaron on Instagram.
The snake bit into my flesh, so fast and with such force. How could I be so unlucky and what expert level of terrible karma had I reached? The initial surprise was replaced with fear. The fear then replaced with panic.
Let's back up a bit, and I'll weave a tale of how I was not only bitten by one poisonous serpent but, rather, by four. And, I'll explain why you are reading about this as a blog post via Green Earth Medicinals.
The first bite was in 2013, the snake's Latin name, "Multiple Sclerosis". I had been experiencing electric shock sensations, miserable hand pain, as well as numbness in my limbs. When you are diagnosed with an incurable disease, that shock, then surprise, then fear, and finally panic. It took me years to come to terms with MS, to discuss it, face it head on. It's taken more years to decide the best way to live with it, stay positive as well as sane.
Another bite, in the form of a divorce, came at the beginning of 2015. I was unable to have a healthy headspace or healthy heart space. My fight with wrestling the first snake kept me depressed and unable to be a fully functioning husband. Every few months, my wife and I would have cry sessions together. We would weep and fear there was no direction for our collective happiness. Finally, as one does with something you love, I let her go. I was unable to face possible worse MS symptoms as I grew older, that she might have to care for me. I didn't want to be cared for as we grew older, and she felt guilty when she had thoughts of wanting to back out as well. It was mutual and almost as terrible as my diagnosis.
The next three bouts with serpents came as brutal crashes while cycling. I was bit once on a dirty trail while mountain biking in California, and twice fanged by separate ER visits while road cycling in Oregon. The collective damages from separate said disasters included a broken back, neck, fracturing my clavicle and pelvis (twice), several broken ribs and fingers, serious concussions, and almost every joint of the human anatomy knocked around like billiard balls.
Right, so the analogy of snake bites to life disasters makes sense. And, admittedly, drew you into reading about an unlucky fella. But, here's the reason to keep you reading: though my nerves are shot, my body has been broken, and my heart torn, I'm still here, and as you look through the photos in this post, know that each is of this year alone… I'm strong, healthy and quite positive.
And, don't stop reading now that you know I've made it. I'm here to help you out. Though unable to fix a wounded heart or untangle twisted nerves, I have finally found a way to handle my stress, physical pain, and finally sleep soundly by using plants.
I'll try and wrap this up, you've got a busy life… as do I, I run twice a week and ride hills on bicycles three times a week. I don't wanna type all day and you don't wanna read all day. Let's get out there and do awesome stuff.
CBD. You've heard about it, might need to actually look it up, already read some about it, and might currently be a fan of its healing properties right now. Since starting to use CBD regularly, I recover quicker, have less soft tissue pain, sleep better/longer, handle stress like I've never been able to before. I gave it a shot in 2019 but wasn't happy with vaping it. What works—at least for me—is tinctures. By dosing every four hours during a long workout, or once at the end of a shorter one, I have noticed unbelievable focus on my stroke and far less focus on my actual pain.
I still carry all four snakes in a backpack, everywhere I go. Recently, we rode to the Oregon coast from Portland and back, 280 miles and almost 18,000 feet of climbing. Slept great, was refreshed, with very little soreness during/after. The snakes were silent. Last trail run was 18 miles and with 3600 feet of climbing in the Mt. Hood National Park. I recovered quickly, with less pain and couldn't wait to hit the trails again. And the snakes, my companions through this life, quiet as mice.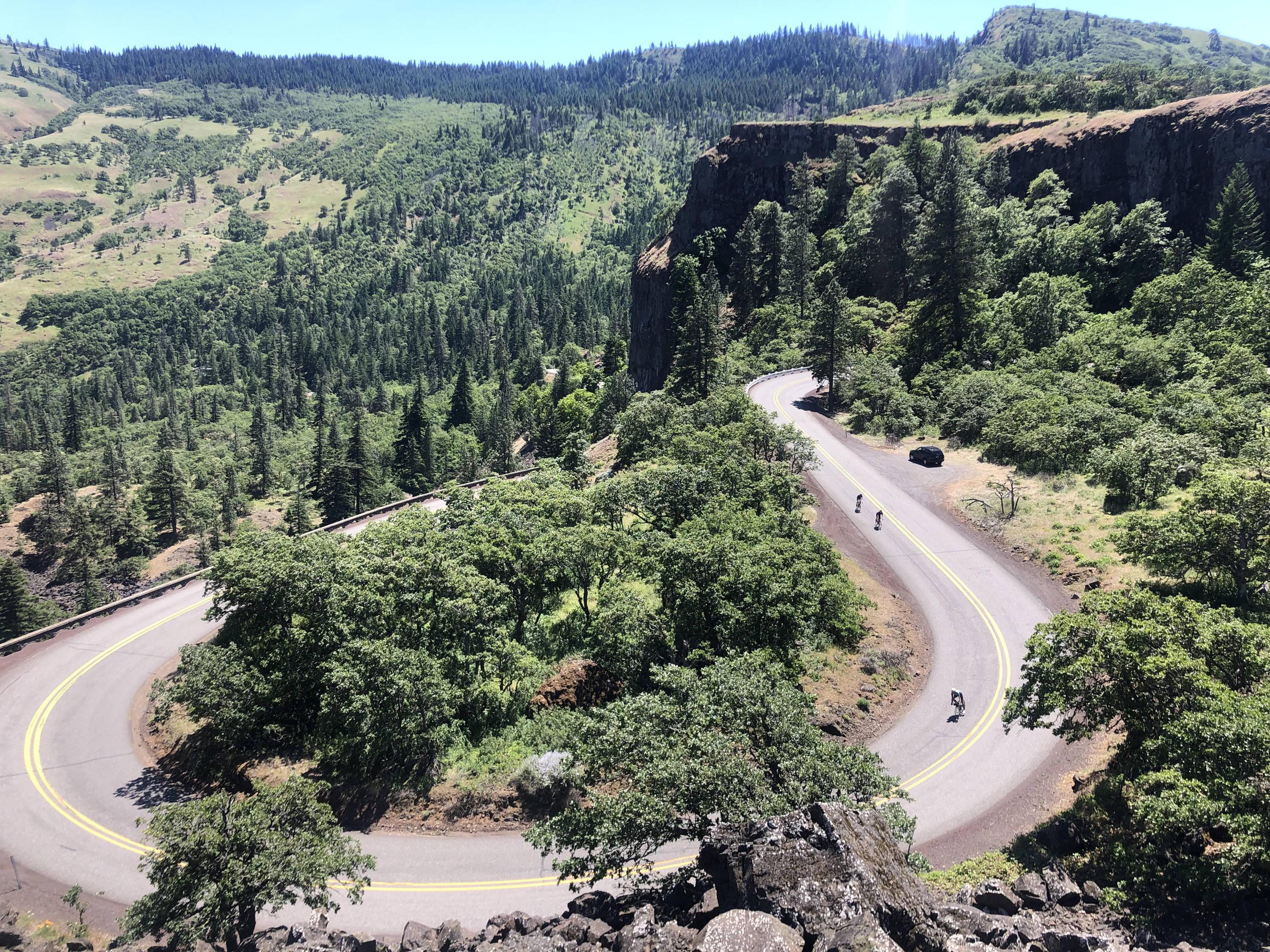 Photo © Joseph Kennedy - used with permission
I have a handle on pain management. I'm able to breath deeper, trudge on, allocate my body's own power and endurance. And, all the while with less time focused on the normal/expected amount of pain caused by repeated heavy workouts and the stress of both MS diagnosis and divorce.
I know you have snake stories too. Perhaps you want to share them with others, perhaps want to know how to face disease or death or divorce or other brutal life struggles. Don't bottle it up, you don't have to. Find great outlets for energy, be them physical or mental. Sleep better, eat more plants, work hard, be nice and be well.
If you haven't looked into CBD as a better life supplement, please do so. Because it is just that—a life supplement—just like laughter, like love, like breathing itself.
Photo © Kurt Eislee - used with permission