Boswellia, A Powerful Anti-Inflammatory Agent

Boswellia - you may have heard the name of this herb thrown around in the wellness industry, but what exactly is it?
Boswellia serrata is a plant native to India and the Punjab region extending into Pakistan. It is the plant that produces Indian frankincense, which is a resin that is often used in traditional medicine. It's safe to say the Boswellia plant comes with huge cultural and traditional importance.
Quality Boswellia Starts with Ethical Sourcing
When sourcing AprèsFlex®, which is derived from the Boswellia resin, Green Earth Medicinals partnered with this brand upon confirming that the company was committed to the fair treatment and well-being of traditional tribal cultures and their natural environments.
In fact, every batch of AprèsFlex® that is harvested is assigned a number that can be traced to the specific region (and even to the specific set of trees!).
Each batch is then tested through many stages of manufacturing - from the raw materials to the final product seen in our CBD+ Inflamma Support Capsules. It has always been extremely important to our team to choose ingredients that have been well-researched and studied for their efficacy.
We make sure we source high-quality ingredients and extracts backed up by thorough testing and scientific peer-reviewed medical research. The Boswellia in our CBD+ Inflamma Support Capsules is no different!
Our Boswellia Products
In our CBD+ Inflamma Support Capsules we source our Boswellia from AprèsFlex®. AprèsFlex® is a patented and bio-enhanced form of Boswellic acid that is clinically shown to support joint and health functions.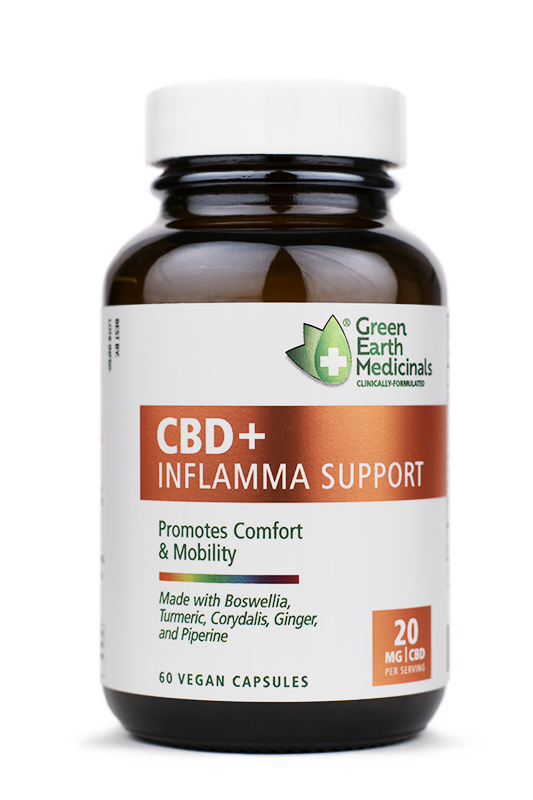 There have been 10 studies, 7 pre-clinical and 3 clinical, that show improved joint comfort and 20% reduced pain scores over baseline at only 100mg per day after 5 days of use and 50% reduction after only 30 days. And each daily dose of our CBD+ Inflamma Support provides 100mg of AprèsFlex®. This combined with our other high-quality botanicals creates an even greater effect to help increase joint comfort and mobility.
AprèsFlex® has also shown a positive influence on biological markers associated with inflammation that include TNFa, CRP, and IL-6 and significantly inhibits an enzyme called MMP-3 (matrix metalloproteinase) that breaks down collagen, cartilage, and connective tissues.
Our team selected this brand of Boswellia not only due to the published studies showing decreased inflammation but also because of the company's dedication to being environmentally conscious in its harvesting.
Ready to harness the power of Boswellia?